Allen-Bradley® 1494U Visible-Blade Disconnect Switch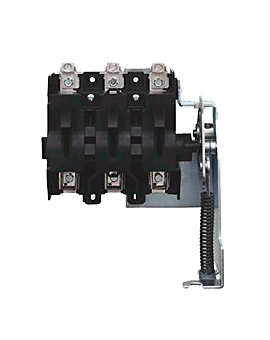 The Allen-Bradley® 1494U visible-blade disconnect switch has up to a 30% smaller footprint than previous switch offerings. With the addition of the multi-port lug connector, users can eliminate space-taking distribution blocks and wire directly to the disconnect switch. This combination can significantly reduce in-panel footprint.
The 1494U switch provides customers the extra level of visual ON or OFF indication of a knife-blade disconnect design. This disconnect switch addresses needs across industries that have a global customer base by providing UL, CSA, CE, and CCC ratings in a single product line.
End users can choose from a number of styles and options to meet their specific application needs, including non-fusible or fusible versions. Options range from non-fusible or fusible versions in 30...600 A sizes. The universal disconnect switches are unique in that they can be connected for rod or cable operation in the field. With the cable option, users also have the flexibility to mount the switch anywhere in the panel, regardless of handle location. Panel builders may take advantage of our accessories to drive added safety and convenience. And, our unique system level design means NFPA 79 compliance is maintained with both open and closed panel doors.
Features and Benefits:

Visible blade design: determine if the switch is ON or OFF at a glance
Universal mechanism: same switch can be connected to a threaded rod or a cable mechanism for reduced inventory
Panel space savings: a reduced footprint and multiport lugs can reduce space by up to 30%
Highly flexible cable operator: giving freedom to mount the switch wherever needed
Ease of installation: modular components with simple instructions in both printed and video formats
Thinner cable design: more flexibility with six inch bend diameter
Switch design: integrates phase barriers with line and load markings into the switch body
Fuse barriers: scored for different fuse lengths and included with each fuse block
Snap-on accessories: faster installation
Global acceptance: designed and tested to various international standards