Advantages of SMC Thermo-Chillers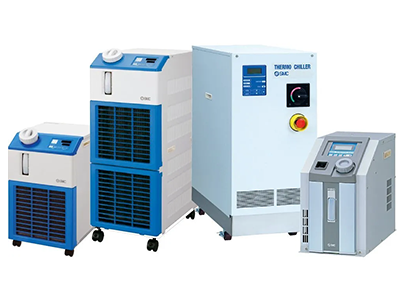 The success of manufacturing processes can be highly dependent upon temperature. Examples include brewing fermentation, dispensing of package adhesives, and biomedical liquid reactions. Excess heat can also lead to damage to the equipment itself. Lasers, printers, traditional chip cutting tools, and welders all require cooling during operation.

SMC Corp. offers a wide selection of high-quality temperature control equipment that allows precision temperature control to meet customer's needs. SMC currently offers many different options regarding voltage, size, and features.
5 Advantages of SMC Corp. Thermo-Chillers
Lightweight and Compact
Energy Saving - the triple inverter respectively controls the number of motor rotations of the compressor, fan, and pump depending on the load from the user's equipment
Heating Function - circulating fluid can be heated without a heater
Easier Maintenance - easy maintenance with the check display of the operation panel
Global Compatibility - no transformers required
Unsure what unit is needed for your application? Please reach out to your local SMC rep, or contact us here, to discuss your needs.
"You wouldn't buy a car without a test drive, so why buy a chiller without doing the same?"
SMC offers a no cost try-before-you-buy Chiller Evacuation Program that gives you the opportunity to test a unit on-site for up to 45 days. This program is a great opportunity to validate your cooling process, as well as evaluate the chiller before purchase.

Program Features:

Validate your cooling process
Evaluate your chiller before purchase
Variety of styles and capacities
Over 70 chillers available
Evaluation period up to 45 days
SMC also offers on-site repair and repair on their units. If you have questions about SMC Corp. temperature control equipment, or if you would like to learn more information about the Chiller Evacuation Program, click the Contact Us link below!