NEW PRODUCT: SMC ZK2 Series Vacuum Generator



The SMC ZK2 series is an energy-saving generator with 90% reduced air consumption. It has a 50% increase in suction flow compared to other single stage SMC generators. With its compact size, light weight, make it easier to maintain, and has various mounting options to choose from.
Vacuum Generators use compressed air to generate vacuum using Venturi. Vacuum levels down to -27 inHG (-91kPa) is obtained from multi-stage units with suction flow greater than 7 SCFM (200 l/min.) SMC's air vacuum generators can be connected via a manifold or used individually. These compact devices can also be customized to integrate suction filters, vacuum sensor switches, and supply/release valves onto the generator. Additionally, SMC's generators can be configured to manage distribution of vacuum from an external vacuum source.
Features:
Energy saving generator
Compact and lightweight
Easy maintenance
High noise reduction silencer
Reduced wiring
Single bracket mounting
Single unit DIN rail mounting
Manifold DIN rail mounting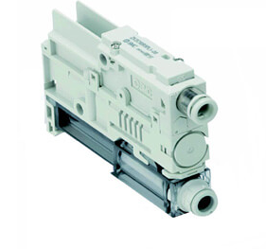 Download Spec Sheet
SMC ZK2 Series Vacuum Generator

Get the all in one ZK2 Series Vacuum Generator with easy maintenance and energy saving efficiency by contacting an SMC expert today!