NEW PRODUCT: The CRC Smartwasher



The SmartWasher system employs a natural process called bioremediation to degrade and remove contaminants from the cleaning fluid, allowing the fluid to remain clean and reusable. There is no need to dispose of the cleaning fluid, and therefore no liquid waste.

The system combines three essential components: the parts washer SmartWasher, the powerful water-based degreasing/cleaning solution called OzzyJuice, and the microbe impregnated particulate trap called an OzzyMat. The merging of these three remarkable products not only defines the SmartWasher system but also produces one truly amazing parts washer.

The SmartWasher is designed for tough jobs. It was built to meet the parts washing needs of industrial applications, general maintenance, automotive and fleet, military equipment and aircraft cleaning.
Features:
Flexible faucet design that allows you to shoot fluid stream directly at greasy and dirty parts
The Ozzymat, microbe infused mat that traps particulates down to 50 microns
Re-circulating pump
Industrial heater that is adjustable
Flow through brush to scrub away grease and oil
Pump control timer
Clean air solvent certificate
Meets US EPA safer product standards
NSF registered products for use in food manufacturing facilities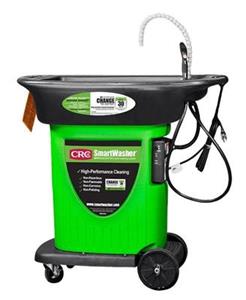 Download Spec Sheet
Smartwasher SW-825C Mobile Combo Parts Washer
Safety Data Sheet

Get a 30-day free trial by contacting an SMC Industrial expert today!