Upgrade from the discontinued 855T to 856T Control Tower™ Signaling System.
Thanks to the latest advances in LED technology, the expectations of industrial signaling products have evolved and become more demanding. Users are looking for signaling devices that are not only brighter, but that offer greater flexibility to meet demanding – and changing – application requirements. These devices must also be easy to select and have the availability to support faster delivery of the machine or allow for easy configuration changes in the field.

While the Bulletin 855T has been a valuable part of our Control Tower signaling portfolio for more than 20 years, this product is no longer for sale and consequently, it is the time to migrate to the new 856T ControlTower 70mm tower light system.

The new 856T Control Tower signaling system features a proven, modular construction design similar to the 855T but incorporates brighter LED illumination and a broad offering of sound technologies all in a 70mm diameter housing. This new design allows the 856T to meet the widest range of signaling applications with a reduced number of components (SKUs) without compromising functionality and flexibility.


Bulletin 856T Features and Benefits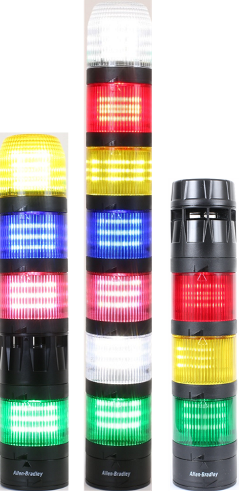 The Control Tower 856T is capable of accommodating up to seven modules in the same stack, offering customers the ability to monitor more machine or process conditions in a single device. The product line will be available for purchase as separate components or as pre-configured, factory-assembled stack lights for
optimal flexibility.
The system is composed of a base mounting adapter, a functional power module and the required light and sound modules, up to 7 as required by the application.
The Bulletin 856T also includes a series of non-stackable beacon-shaped light modules, designed for applications where a beacon is preferred over a stack light. The advantage is that beacons and stack lights share the same mounting options, allowing for simplified product selection/configuration as well as easier changes in
the field.
All Bulletin 856T light and sound modules are rated for 24V AC/DC, which allows for a significant reduction in the number of components to select while allowing for
additional functionality not present in our 855T line. This new functionality includes multi-function light modules that can be configured via DIP switch to work as steady only, flashing, strobe (single or double pulse); an RGB multicolor LED light module capable of producing up to seven colors and an improved version of the rotating light module now available in six colors. All provide increased flexibility to meet the full range from basic to complex application requirements.
To increase operator awareness a series of different audible choices can be used either to complement the visual indication or provide separate indication of the machine's status or condition. These sound options include multi-tone piezoelectric, multi-tone transducer and recordable technologies.
Direct control of the lights in AC voltage applications is achieved through an innovative extended range (120/240V AC) functional power module available in
two versions capable of controlling up to three circuits or up to seven to circuits.
All of the light and sound modules meet IP66/67 for reliable performance in tough environmental conditions.
For more information, contact one of SMC's Technical Specialists near you.