46CLR ColorSight™ True Color Sensor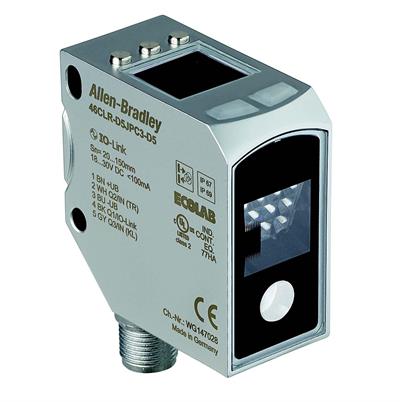 The new Allen-Bradley® 46CLR ColorSight™ True Color Sensor – like its ColorSight counterparts – was designed to perform the sensing operations commonly found in the automotive, food and beverage, pharmaceutical, and plastics, among other industries. This sensor offers enhanced performance in a compact, cost-effective package and addresses an even wider range of your applications.
The 46CLR is a color sensing solution featuring patent pending distance correction technology that confirms consistent color detection at ranges up to 65 mm. Additional features include internal storage of up to seven colors and nine adjustable tolerance levels for optimal application flexibility.
The 46CLR is also a smart sensing solution with embedded IO-Link functionality that easily integrates into The Connected Enterprise. That means the 46CLR can deliver sensor health and application data directly into a control system to help minimize downtime and increase productivity.
Features & Benefits:

Three models to address your needs:

Glare suppression
Small spot size (for small object detection)
Long range

Built-in distance correction technology confirms consistent color detection
Internally stores up to seven colors in color match mode and unlimited colors by using IO-Link when connected to CompactLogix™
Access true RGB color and intensity values using IO-Link
Nine adjustable tolerance levels provide additional flexibility in installation
Three discrete outputs with auto PNP/NPN
IP67 and IP69 zinc die cast rated enclosure
Embedded IO-Link communication protocol helps minimize downtime and increase productivity
Contact us today for more information or to order this new product.