E1 Plus to E100 Electronic Overload Relay Migration
Your overload relays are a critical asset in your automation system, and SMC supports that by providing you with the latest technology to maximize your investment. New technologies can improve and extend the operation of existing equipment and provide an immediate boost to productivity. By migrating from your legacy E1 Plus Overload to a new E100 Electronic Overload Relay, you can help to decrease downtime, increase speed to market, and optimize operations well into the future.
We will help you to meet ever changing industry demands to innovate by proactively planning and managing your transition every step of the way to help you get the highest possible return on your automation investment.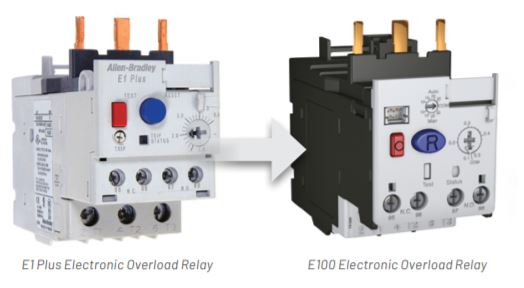 The E1 Plus Overload Relay™ will no longer be available for sale after April 2021. Now is the time to migrate to the E100™ Electronic Overload Relay. The E100 is the next generation basic-tier electronic overload relay. It has enhanced features to better safeguard your motor investments, including increased accuracy and repeatability, a self-powered design with lower heat dissipation, and an aggressive component certification strategy.
E100 Basic Product Overview

193-1EE: Trip Class 10 and 20, manual reset only
193/592-1EF: Trip Class 10, 15, 20, 30, manual or automatic reset
5:1 wide current adjustment range to cover a variety of motor applications
Supports both single- and three-phase operation in a single component
A variety of accessories for enhanced protection

Ground fault/jam
Remote reset and/or indication
Anti-tamper shields
DIN rail/panel mounting
External CT configurations

Current measurement-based protection
Electronic design and thermal memory
Phase loss protection
Self-powered and direct-mount design with IEC and NEMA style contactors
Any of our SMC Automation Specialists would be happy to assist you with your migration or to answer your question on the new E100 Electronic Overload Relays.