Save the Date for The Automation Fair At Home
November 16-20, 2020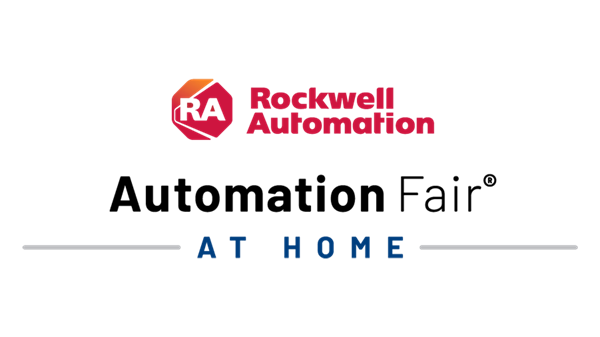 The Automation Fair At Home experience will feature the newest solutions and innovations, the opportunity to interact with technology experts and executives, participate in engaging hands-on labs, training sessions, industry focused forums, and keynote presentations, and network with leading professionals in the field.
Registration and event details will be coming soon.


---
The Automation Fair At Home® experience offers hands-on training sessions and thought-provoking presentations to help you conquer your industry challenges. These sessions are presented by experts from Rockwell Automation, our PartnerNetwork™ members, and forward-thinking professionals. Learn how they can improve your expertise and skillset.


Bold Conversations

It's no secret that inclusion and diversity are good for business. But how do you create a sustainable culture change to maximize your employees' potential and your bottom line?

Our Bold Conversations on Inclusion & Diversity sessions will feature a variety of thought-leaders discussing how culture, community outreach, supplier diversity and a focus on talent can impact your business.

Bring your questions and your curiosity. We can't promise easy answers, but we will promise authentic discussion.

DX Strategists

Now, more than ever, innovation, creativity and agility are paramount for industry. In the DX Strategists track presentations, we want to inspire innovation through shared experiences and community development. We're bringing together visionaries in industrial digital transformation at this new world-class experience to showcase the power and value of our IT/OT expertise.

Industry Forums

We're living in unprecedented times. The pace of change is fast and furious and companies across the globe are stepping up in unique ways to better serve their customers. Join us for 60-minute moderated panel discussions where leaders from your industry will discuss how they are defining, transforming, and innovating their next.

Hands-on Labs

Get hands-on experience with the latest technology and product enhancements. These interactive training labs cover the portfolio of products from Allen Bradley, Rockwell Software, and products offered by our PartnerNetwork members.

Hands-on labs will be offered daily, focused on the newest hardware and software technologies.

Hands-on labs are reserved for customers and are limited to two labs per person. Registration for labs is required and cost $99 per lab.

Process Solutions User Group

Digital transformation is rapidly changing multiple process industries and the platforms as we know it. Success requires seamless and secure connectivity between the equipment and the enterprise, as well as the ability to contextualize and analyze the wealth of data available from all levels of the control system.

The Process Solutions User Group track will showcase how Rockwell Automation® is leveraging input from its users to help drive our latest releases of the PlantPAx® DCS, Batch, and supporting process solutions. The PSUG track will include the follow sessions:

Ask the experts
Customer sessions
Hands-on labs
Keynote presentations
Technical sessions

Technical Sessions

These sessions provide a deep-dive into the technical aspects of the newest industrial automation technologies, and include cutting-edge use cases and demonstrations.

Technical sessions will be presented by Rockwell Automation and members of the PartnerNetworkTM. Sessions will cover the following topics:

Industries and solutions
Information software
Innovations
Products and technologies
---
If you are wondering if this event is right for you,
contact us
and one of SMC's Technical Specialists will help with all your questions.