Allen-Bradley® 48CR Code Reader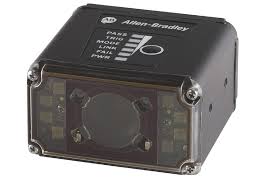 The new Allen-Bradley® 48CR Code Reader from Rockwell Automation is the smallest industrial code reader on the market. The rugged 48CR decodes 1D/2D and Direct Part Marked (DPM) codes and solves the most challenging readings under any condition. Featuring the latest decoding algorithms technology, the 48CR can successfully read damaged and incomplete symbols despite scenarios with poor prints, scratches or various obstructions. The 48CR supports Ethernet/IP™ and can be configured through either the Studio 5000 Logix Designer® Add-On Profile (AOP) or the embedded WebConnect visual browser.
The 48CR is available in a standard model (WVGA, 0.3 MP resolution, fixed focus) and an advanced model (SXGA, 1.2 MP resolution, autofocus). To read codes at any variable range, the reader has adjustable read ranges from 102 mm (4.02 in.) to 400 mm (15.75 in.). For reliable decoding at the speed you need, the 48CR comes with speeds up to 60 fps for fixed focus and 42 fps for autofocus. Other features include 16 LED-integrated illumination, status LEDs and a molded window that can be replaced or interchanged with a polarized or diffuser window for additional application flexibility.
Features and Benefits:

Smallest industrial code reader on the market today: 44.5 mm (1.75 in.) x 25.4 mm (1.00 in.) x 44.45 mm (1.75 in.)
Decoding algorithms technology provides clear, high-speed scanning on 1D/2D and Direct Part Marked (DPM) codes on any surface
Supports EtherNet/IP™ through Studio 5000 Logix Designer® Add-on Profile (AOP) or the embedded webbased visual browser WebConnect
Two models available:

Standard: (WVGA, 0.3 MP resolution, fixed focus)
Advanced: (SXGA, 1.2 MP resolution, autofocus)

Adjustable read ranges from between 102 mm (4.02 in.) to 400 mm (15.75 in.) for liquid lens autofocus models
Read ranges from between 102 mm (4.02 in.) to 400 mm (15.75 in.) for fixed focus lens catalogs
Speeds up to 60 frames per second (fps) for fixed focus and 42 fps for autofocus code readers
16 LED-integrated illumination (programmable to red or white)
Status LEDs and molded window
Industrial IP65/67 enclosure rating
Connectors:

M12, 8-pin power
M12, 4-pin Power over Ethernet/IP™

Molded window can be replaced or interchanged with a polarized or diffuser window