Dual Monitoring Block and Bleed Control Valves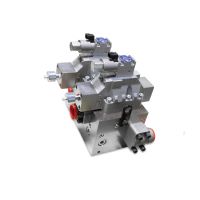 Dual monitored kits consist of ductile iron manifold and two single solenoid valves making it a redundant design. The series - parallel circuit design blocks flow and pressure until both valves have been actuated to allow flow and pressure from the supply to the machine. If either valve is deactivated the flow to the outlet port will be blocked from the hydraulic supply source and the outlet port is then automatically connected to tank removing all potential hydraulic power at the machine.

The solenoid operated directional valves are equipped with position sensors that monitor the main spool position. The switching position is indicated by a binary signal.

Double redundant valve assemblies are ideal for applications such as:
Brick and Block Manufacturing
Automotive Assembly Lines
Machining Centers
Recharging Systems in Critical PetroChemical/Energy Producing Applications
Pulp and Paper Product Production
Saw Mills
Metal Forming
Food Processing Plants
Powering Dam Gates
Motion Simulators
Hydraulic Presses
TÜV certification body certifies the compliance of VSD0*S valves with the EC safety standards ISO 4413:2012, UNI EN 12622:2014, UNI EN 693:2001 +A2:2001, UNI EN 201:2010 and UNI EN 422:2009 with certificate TÜV IT 14 MAC 0043.