Allen-Bradley® GuardShield™ 445L to 450L-E Safety Light Curtain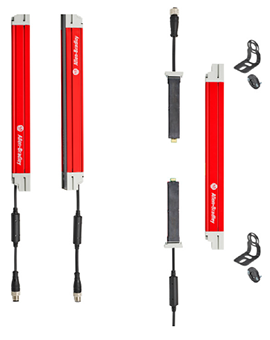 The Allen-Bradley® GuardShield™ 450L Safety Light Curtains from Rockwell Automation include Basic and Enhanced models both available in finger or hand resolution. 450L POC offers the full functionality of 445L in a similar profile. Like the 445L, the 450L features an integrated laser alignment system. Another advantage of the 450L family is that it offers end-to-end protection and has no dead zone.
The Allen-Bradley® GuardShield™ 450L-E Safety Light Curtains from Rockwell Automation are based on a unique patented transceiver technology which allows each stick to be used as a transmitter or as a receiver. The full functionality of a transceiver is provided by plug-ins inserted at the bottom of the sticks. By using only one stick type with the optimal plug-ins selected based on the requirements of the application, the GuardShield 450L portfolio is a simple, cost effective solution that offers enhanced flexibility while maintaining the highest level of safety.
The enhanced GuardShield 450L-E light curtain system is also ideal for applications requiring advanced functions such as integrated laser alignment, cascading, blanking, and integrated muting.
Features and Benefits:

Extended features and functionality compared to the 450L-B such as cascading, built-in muting, blanking and multiple applications configuration
Embedded functions configured quickly and easily via DIP switches or software, significantly reducing engineering effort.

These include: Muting, blanking, start mode, external device monitoring (EDM), scanning range

Leverages patented transceiver technology – each stick can be used as a transmitter or receiver via innovative plug-in modules
Enhanced Integrated Laser Alignment System (ILAS) for quick installation and reliable operation
Active protective field provides sensing over the entire length of a transceiver
Compact design 30 mm x 30 mm (1.18 in. x 1.18 in.)
Wide range of protection heights 150…1950 mm (5.9…76.7 in.) in increments of 150 mm (0.5 ft)
Resolutions:

Finger resolution: (14 mm): 0.5 to 9 m (1.64…29.53 ft)
Hand resolution: (14 mm): 0.5 to 9 m (1.64…29.53 ft)
Supports cascading of multiple systems in series
Flexible mounting options allow for quick and easy installation
Configure, monitor and troubleshoot via Connected Components Workbench (CCW) software. Pre-configure multiple configurations.
IP65 enclosure rating
TÜV certified Type 4 IEC 61496-1/-2, Ple, SILcl3 per EN ISO 13849-1, IEC 62061
Contact SMC today to learn more about this cost-effective safety solution.