New Vuforia Chalk 30-Day Free Trial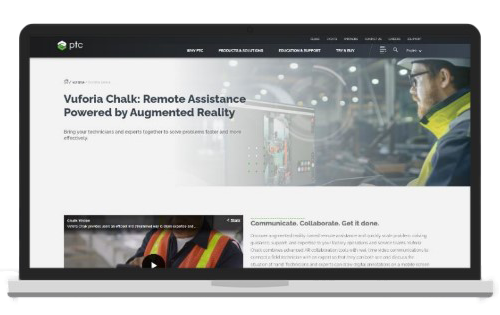 COVID-19 continues to change our personal and professional lives, producing unprecedented challenges. How we face these professional challenges could determine the future of how businesses react during times of crisis. To help you maintain business continuity while keeping your employees healthy and safe, Rockwell Automation is offering a free 30-day trial of Vuforia Chalk, a collaborative remote assistance tool, to first-time users. This augmented reality software program helps employees who need to share real-time instructions and guidance without being physically on-site.

This 30-day free trial allows users unlimited sessions per month across your company account, along with session summaries. Users will also have desktop, RealWear, and mobile access, so you have all the answers at your fingertips, all the time.
Vuforia Chalk combines advanced AR with real-time communications to connect a field technician with an expert so that the expert can see and discuss the situation in the field. Technicians and experts can draw digital annotations on a mobile screen or desktop that accurately stick to 3D physical objects, allowing the expert to guide the technician through a process, step-by-step. With more accurate annotations, experts, and technicians spend less time resolving issues, increasing operational productivity and efficiency. Vuforia Chalk delivers faster resolution without the time and expense of expert travel or repeat technician visits.
Reduce Operational Costs

Giving frontline workers access to real-time AR support from your most experienced team members reduces the time it takes to repair or resolve, without the travel costs.
Faster Technician Training
Remote monitoring of new technicians via modern digital learning methods effectively transfers the knowledge of more experienced workers, so everyone on the team can be an expert.
Improve Service Quality
Both expert and technician can accurately mark up live views to highlight details or guide solutions. Annotations stick where drawn, so ad-hoc instructions are precise.
Vuforia Chalk's 30-Day Free Trial Features:
Unlimited sessions per month across your company account
5 hosts
Desktop, RealWear, and mobile access
Connect codes and company contact lists
Low bandwidth mode
Session summaries
Online community support
User analytics dashboards
Vuforia Chalk enables the industrial enterprise to rapidly and cost-effectively get AR in the hands of service and operations technicians with the mobile devices they already carry. Learn more about how Vuforia can provide your organization with problem-solving guidance, support, and expertise.