OSHA Reveals Top 10 Violations in 2020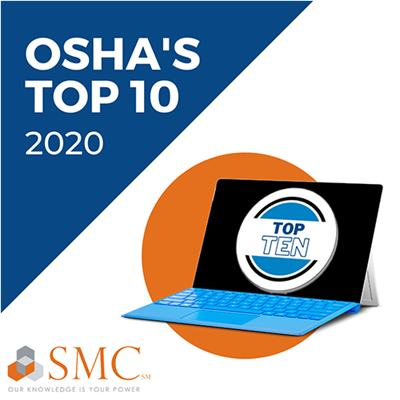 The Occupational Safety and Health Administration (OSHA) has announced its preliminary Top 10 most frequently cited workplace standard violations for fiscal year 2020.
Fall Protection - General Requirements (1926.501) remained the most frequently cited violation for the tenth consecutive fiscal year. Ladders (1926.1053) climbed to a top-five spot, and Respiratory Protection (1910.134) rose from the third rank to fifth.
Fall Protection - General Requirements (1926.501): 5,424 violations
Hazard Communication (1910.1200): 3,199
Respiratory Protection (1910.134): 2,649
Scaffolding (1926.451): 2,538
Ladders (1926.1053): 2,129
Lockout/Tagout (1910.147): 2,065
Powered Industrial Trucks (1910.178): 1,932
Fall Protection - Training Requirements (1926.503): 1,621
Personal Protective and Life Saving Equipment - Eye and Face Protection (1926.102): 1,369
Machine Guarding (1910.212): 1,313
This ranking from OSHA is supplied to alert employees about these commonly cited standards so they can take the necessary steps to find and fix recognized hazards.
Willful or repeat violations can cost up to $134,937 per violation. In Missouri, OSHA fines for serious hazards in the workplace increased from $849 to $3,630 per hazard. Developing an ongoing workplace safety training program is key to preventing avoidable accidents, injuries, illnesses, and deaths.
Schedule a Safety Assessment with SMC to ensure your company's safety this year.