Stratix 5800 High Performance Managed Switches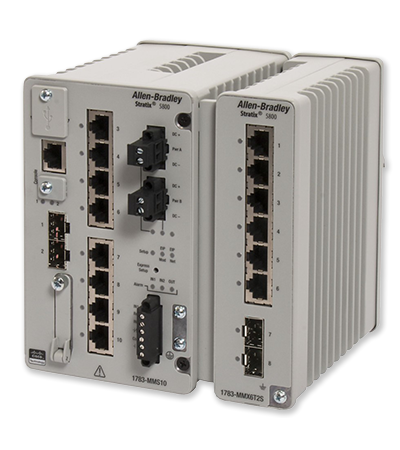 The Stratix® 5800 managed industrial Ethernet switch offers gigabit performance in a flexible package. It comes in both fixed and modular designs supporting a wide variety of copper, fiber, and PoE expansion modules and is available with Layer 2 switching or Layer 3 routing firmware options to meet a diverse range of application needs.
When used as a layer 2 switch, the Stratix 5800 is ideal where high-performance end devices are located. When used as a Layer 3 switch, routing is enabled between segmented networks for better performance and protection from unwanted network traffic. Segmenting the network helps to ease changes that simplify security management by building domains of trust and increasing efficiency.
The Stratix 5800 includes a robust set of switching, routing, and security features to support a wide range of architectures and uses the Cisco IOS-XE operating system for optimized compatibility to the enterprise environment.
Overview

Provides all gig switch platform for high-performance network support
Offers fixed and modular options up to 26 ports providing flexibility and scalability
Includes wide variety of copper, fiber, and PoE choices to support a diverse set of applications
Supports layer 2 access switching and layer 3 routing for use in multiple layers of the architecture
Supports both IT and OT configuration and management tools allowing users to leverage the expertise of each team
Default configurations for industrial applications providing easy setup and optimized performance
Obtained IEC 62443-4-2 certification achieving adherence to a global cybersecurity standard
Optimized Integration

Studio 5000® Add-on Profiles (AOPs) enable premier integration into the Rockwell Automation® Integrated Architecture® system
Predefined named Logix tags for monitoring and port control
FactoryTalk® View faceplates help to enable status monitoring and alarming
Embedded Cisco® technology including IOS-XE operating system helps enable secure integration with the enterprise network
Contact SMC today to learn more about these high performance industrial Ethernet switches.