140G Molded Case Circuit Breakers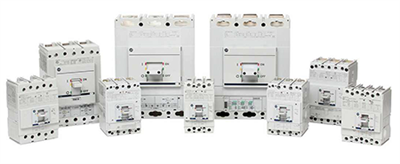 The Bulletin 140G Molded Case Circuit Breakers have nine different frame sizes with a range of 10...3000 A to accommodate your required current ratings and breaking capacities. With a wide range of operators and accessories, these circuit breakers provide the protection of circuits against overload, short circuit, and ground fault.
MCCBs are intended to provide overcurrent protection for conductors and equipment by opening automatically before the current reaches a value and duration that will cause an excessive or dangerous temperature in conductors or conductor insulation. Additionally, these devices can serve as the main disconnecting means for a control panel. This protection pertains to low level overcurrent, and short-circuit current.
Overview

Offers 3- and 4- pole versions to support worldwide applications
Includes high interrupting ratings from 18...100 kA in a compact device
Offers a wide range of operating mechanisms to fit a variety of panel configurations
Provides a greater customization in trip units
Offers a wide range of accessories for global availability
Approved for global application: UL, CSA, CCC, and IEC performance interrupting/breaking capacity
Offers current-limiting option (H, J, and K frames) that provides half-cycle interrupt to limit let-through energy
Click below to start shopping for the Allen-Bradley 140G Molded Case Circuit Breakers.