Introducing ARC™ Technology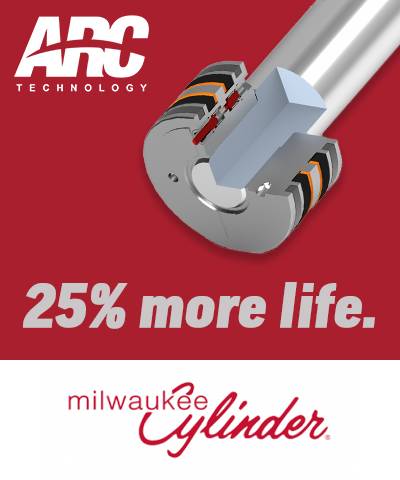 Introducing ARC™ Technology from Milwaukee Cylinder. ARC is a new automatic recirculating cylinder technology which extends the life of a cylinder by automatically flushing new oil into the cylinder on every cylinder cycle.
ARC is a proprietary cartridge built into the piston. When the piston reaches 3/16" from the end-of-stroke, ARC opens and oil is allowed to bypass the piston, flushing the cylinder with clean, cool oil. When not at end-of-stroke, ARC closes, allowing the cylinder to obtain full force and speed.
Benefits
Extend cylinder life by 25% or more by removing stagnant oil
Operate in higher temp environments by end-of-stroke cooling
Better hydraulic performance

Remove trapped air, preventing erratic behavior
Limited-Time Promotion
18 Month Extended Warranty | If the ARC cylinder does not last 25% longer than the previous non-ARC cylinder, Milwaukee Cylinder will offer a $200 credit towards the purchase of future Milwaukee Cylinder product.
Eligibility and Terms & Conditions apply. Contact Milwaukee Cylinder for more details.
Options
Available on H-Series product
Flow side
Flow volume
Various bore and rod combinations;
Take advantage of this new technology!