1694 Modular Electronic Circuit Protectors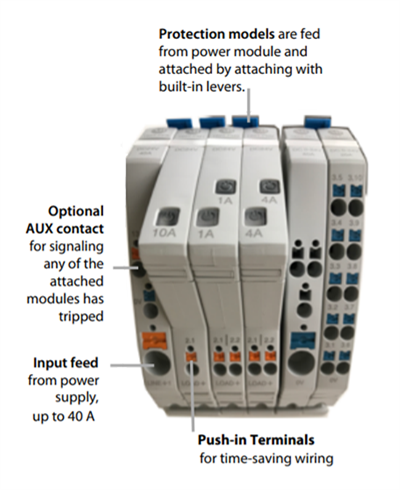 The next generation 1694 Modular Electronic Circuit Protection products are designed to provide an excellent solution to the challenges of protecting 24V DC control circuits. The option to add IO-Link communications can add extensive information about the status of your control circuits and enable early detection of developing faults.
The option of adding IO-Link to this system means you can now monitor current and voltage levels on any circuit protected by the system. You can trigger a threshold warning at any level you chose, and reset a tripped module remotely, through your control system.
Because of the characteristics of the switch mode power supplies that energize these systems, there are unique challenges to using thermographic circuit breakers. Since the power supply is constrained as to its capacity to provide current, overloads can result in voltage drops and overcurrent conditions that don't trip a traditional circuit breaker before equipment is damaged or wiring overheats.
Preventative Maintenance
Real-time voltage and current monitoring allow for trend analysis. Trip counter enables predictability. These features help enhance machine dependability.
Adjustability
Adjustable current protection module can be used in standard, non-communicating and IO-Link or manually (on the device). There is no dial or potentiometer on the module. This reduces the risk of unwanted manipulation and is tamper-proof.
Communication
The protection modules allow for remote reset via IO-Link, IO-link communication is widely spread, over 16 million nodes, and accepted in the field.
---
Features
Protection modules are fed from power module and attached by attaching with built-in levers
Optional AUX contact for signaling any of the attached modules has been tripped
Input feed from power supply, up to 40 A
Push-in terminals for time-saving wiring
Multicolor LED options
---
Ready to build your own?
SMC's ProposalWorks tool allows you to select standard products or configure made-to-order products to meet your application requirements. With an easy-to-use capability, this tool helps you create bill of materials, RFQs, and proposals for your automation projects directly from your computer. Log in or create an SMC account to use ProposalWorks and configure products based on your project standards.


Questions? Contact your local branch to learn more.