Request a Free Thermal Audit for your Enclosures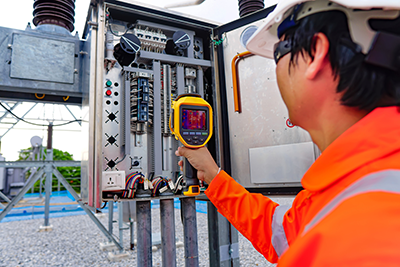 From now until September 30, 2021, nVent Hoffman is offering free thermal audits to help you identify and solve climate control problems in your enclosures.
A thermal audit quickly identifies problem areas and offers compelling evidence of excess heat that can affect performance and potentially damage your critical equipment. Keeping your electronics cool is essential to maximizing the life cycles of your electronic devices, reducing capital expenses, and keeping your business running. Heat can have a significant impact on electronics by reducing performance, causing damage, and affecting manufacturer warranties.
What does a thermal audit include?
Enclosure Inspection
A Hoffman specialist will identify and inspect every enclosure and cooling unit in your facility as well as analyze the environment.
Thermal Analysis
The specialist will then take an in-depth look inside your enclosures to identify problematic electronics and components.
Recommendations
Finally, after an audit is conducted, a personalized report will provided for all the enclosures with solution recommendations.
---
Sources of Damaging Heat
Heat can be generated internally by electronic components and intensified by external sources. Inside a cabinet, uncooled components can generate as much trapped heat as a home furnace.
AC power supplies
Controllers, drives, and servos
Transformers and rectifiers
Processors and server racks
Radio equipment

Heat is also generated from sources outside the enclosure such as:
Solar heat gain
High ambient temperature
Welding processes
Paint oven
Blast furnace
Foundry equipment

---
Reasons to Choose Hoffman for your Cooling Solution
Over 2,000 UL®-certified standard cooling, heating, and climate-control products for reliable operation and longer life of protected components
Cooling specification is easier with our Cooling Selection Tool that will help you find the ideal cooling solution from 1,000+ standard cooling configurations
Cooling products are stocked locally and supported by a vast distribution network for quick availability and service
On-site thermal audits and consulting
Available modifications including sizing, adaptation, power, custom paint, and accessories
State-of-the-art, in-house laboratory testing, validation, and global agency certification services
The Advantages of Combining nVent Hoffman Enclosure and Cooling Solutions
Ensures complete solution is engineered to maintain rating and certification
Single-source accountability for support and service
Ease of specification, ordering, and purchasing
Reduced lead times and elimination of miscommunication between multiple vendors
nVent Hoffman Cooling helps create optimal conditions for the reliable operation of electronic and electrical components in a variety of industrial, datacomm and commercial applications.
Contact us below to request your thermal audit.