800T/H 30 mm Push Buttons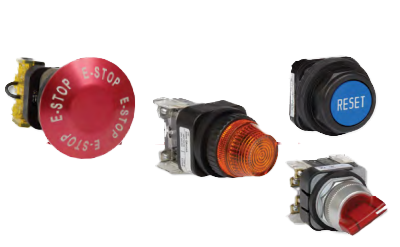 The Allen-Bradley Bulletin 800T and 800H push button product lines are in a class by themselves. They are designed and constructed to perform in the most demanding industrial environments. Bold yet functional, rugged yet attractive, Allen-Bradley's 30 mm push buttons represent the world's most innovative and unique offering.
Solid-Color Button Cap
Thermoplastic polyester resin delivers excellent resistance to corrosive agents/color identification is never lost (no insert to lose).
Actuator Shaft
Rugged, dependable performance assured by zinc alloy casting.
Return Spring
Stainless Steel formed wire delivers consistent operation and long life.
Operator Bushing
Die cast zinc alloy gives strength and stability in installation.
Diaphragm Seal
Provides a complete blanket of protection from liquids, particles, and corrosive agents.
Riveted Construction
Operator bushing, diaphragm seal and base plate are secured together by four steel rivets, providing durability and tamper resistance.
---
Advanced Switching Functionality
Allen-Bradley's wide range of contact blocks, offering features and capabilities found no where else in the industry, can address more applications and environments.
Standard Contact Blocks
10 A max., A600 rated – for general purpose use
Flexible bifurcated spanner provides increased contact reliability
Pure fine silver contacts resist corrosion
Self-lifting saddle clamps simplify wiring
Clear side plates allow easy inspection of contacts
Optional color-coded finger safe (IP2X) versions
PenTUFF™ Contact Blocks
2.5 A max., C300 rated
Low voltage switching reliability to 5V DC, 1 mA – ideal for interfacing with programmable logic controller input circuits
Direct drive pentafurcated contact design
Spanner made from corrosion resistant inert precious metals
Optional finger-safe (IP2X) versions
Explosion-Protected Contact Blocks
Class I Div. 2 (Groups A, B, C and D) certified
1-NO, 1-NC, A600 rated (10 A max)
Positive opening NC contact, conformance to global E-stop standards
Rugged construction ideal for applications with high shock and vibration
Stackable design allows maximum circuit flexibility
Self-Monitoring™ Contact Blocks
Ensures that the normally closed contacts will open when the E-stop is actuated
10 A max., A600 rated
Bifurcated spanner with pure fine silver contacts
Color-coded yellow for easy identification
IP2X finger safe protection standard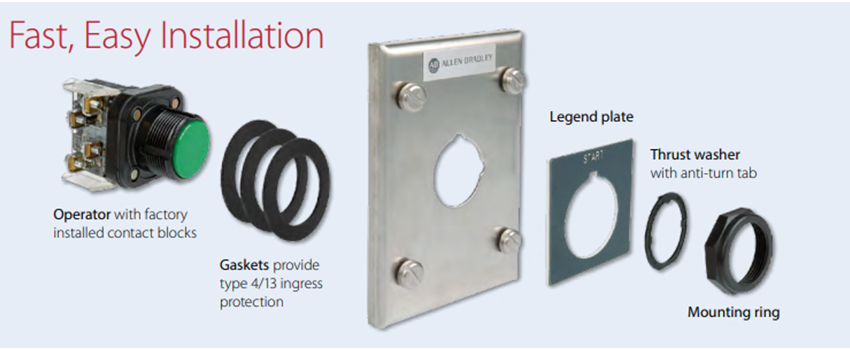 Specialty Devices
Potentiometer Units
Cylinder Lock Push Buttons (800T only)
Momentary Contact Flip Lever Push Buttons (800H only)
Selector Push Button Units (800T only)
Momentary Wobble Stick Units (800T only)
1-2-3-4-Way Toggle Switches (800T only)
Mechanically Interlocked Maintained Push Buttons
Momentary Padlocking Mushroom Head Push Buttons (800T only)
Cluster Pilot Lights (800T only)
---
Shop now to begin implementing these industry-leading push button devices.