ISE20 Digital Pressure Sensor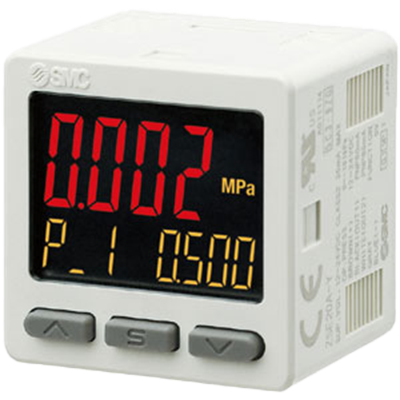 ISE20 is a digital pressure sensor with an informative, easy to read 3 screen, 3 color display. The main screen shows the instantaneous reading in red or green, while two sub-screens can display the setting label and its numeric value in orange. ISE20 saves energy with only 25mA current consumption. Further, the switch output responds within 1.5ms once the set pressure value is reached. ISE20 is UL/CSA and RoHS compliant, with an IP40 enclosure rating.
IMPROVED OPERABILITY
Visualization of Settings
The sub screen (label) shows the item to be set.
Simple 3-Step Setting
When the S button is pressed and set value is being displayed, the set value (threshold value) can be set. When the S button is pressed and the hysteresis is being displayed, the hysteresis values can be set.
Easy Screen Switching
Change the settings while checking the measured value.
Other Sub Screen Display
The peak value or bottom value, or both values can be displayed on one screen.
*Peak and bottom values are maintained even if the power supply is cut.
FEATURES
Lowest electrical consumption of any ISE, at 25mA
3 setting modes: 3-step, simple, and function selection
5 pressure units: MPa, kPa, kgf/cm2, bar, and psi
1 switch output (NPN or PNP)
Port sizes: M5 (female), 1/8 RC or NPT (male), one-touch fitting (straight, elbow) (ø4 or 6 mm, ø1/4")
Bracket or panel mounting options
---
Ready to reduce your energy consumption with the ISE20?