Mill 4-15™ Double-Sided Shoulder Milling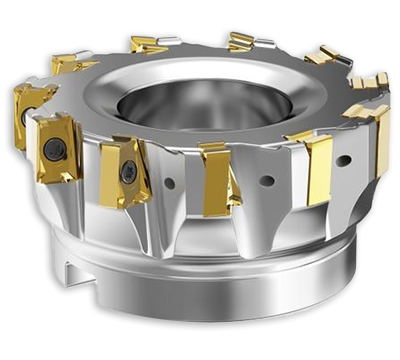 The new Mill 4-15 platform from Kennametal is a best-in-class system. Mill 4-15 features a double-sided insert with four cutting edges for effective cost per edge and able to take up to 15mm [.590"] depth of cut, while a unique cutting edge design assures positive contact through 90-degree milling and virtually "stepless" solution for stepping-down applications. In addition, an integrated wiper facet achieves best-in-class surface finishes.
The Mill 4-15 offers excellent surface quality and higher metal removal rates. The unique design allows the user to apply the tool in multiple passes, called "step down." Most tools leave tool marks with every pass they take, resulting in unsatisfactory or low-quality wall finishes. This usually requires another finishing pass at the very end of the process. Mill 4-15 eliminates that finishing pass with an additional tool, saving time and money.
Features and Benefits
Double-sided strong insert with 4 cutting edges
High positive geometry for lower cutting forces
Superior wall and surface finish capabilities
"Stepless" solution. No mismatch when machining walls in different steps
True 90° capabilities. Stepless solution when using multiple steps
Engineered to run up to 15,5mm depth of cut
Effective internal coolant feature, reaching the cutting edge precisely


---
Shop now to simplify multiple-pass operations.