Product Migration: 140M and 140U to 140MT and 140UT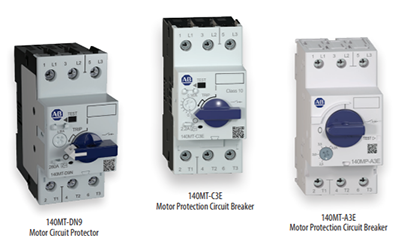 Rockwell Automation understands that your Motor Protection Circuit Breakers, Motor Circuit Protectors, and Molded Case Circuit Breakers are critical assets in your automation system, and we support that by providing you with the latest technology to maximize your investment. New technologies can improve and extend the operation of existing equipment and provide an immediate boost to productivity. By migrating from
your legacy
140M and 140U product to the
new
140MT and 140UT products
, you can help to decrease downtime and optimize operations well into the future.
The Bulletin 140MP line of motor protection circuit breakers offer the most used features, cost-effectively. Bulletin 140MP provide magnetic short circuit and thermal overload protection up to 32 A.
Bulletin 140MT products offer enhanced ratings that enable assembled starters to be applied without additional branch circuit protection. Tap conductor protection ratings can save you money by allowing the use of smaller wires in group motor installations. Bulletin 140MT products are available as motor circuit protectors for three-component starters and motor protection circuit breakers for two-component starters.
Special versions of 140MT meet specific application requirements. Examples include the 140MT-D9V for application at the output of a variable-frequency drive (VFD) in multi-motor applications and the 140MT-D9T, suitable for protection of high efficiency motors with high inrush.
All Bulletin 140 products are available with connectors to enable direct wiring to Bulletin 100-K/C/E contactors.
Why Upgrade or Migrate?
With the introduction of the Bulletin 140MT Motor Protection Circuit Breaker and Motor Circuit Protectors and the Bulletin 140UT Molded Case Circuit Breaker, Rockwell Automation announces the discontinuation of the existing 140M (C- and D-frame) and 140U (D-frame) Products by February of 2022. We will continue to serve our customers with the balance of the 140M that is F-frame up to 45A.
140MT Features and Benefits
Extended current range for more applications:

140MT-C up to 32A
140MT-D up to 40A

Improved thermal performance reducing heat loss
Protection and control functions:

Overload Protection
High short circuit protection
Disconnect function
Phase loss function

Addresses specialized applications:

Variable-frequency drive (VFD) in multi-motor applications (140MT-D9V)
High-efficiency/high-inrush motor protection (140MT-D9T)
Motor circuit protector option for three-component starters (140MT-D9N)

Self-protected (Type E) combination motor controller ratings eliminate need for separate branch circuit protection
Provides easy documentation with SCCR tool, certifying combination testing with 100-E, 100-C and 100-K contactors
UL Tap conductor protection ratings allows smaller conductors in group motor installations, reducing installed cost
140MP Features and Benefits
Protection and control functions:

Overload protection
High short circuit protection
Disconnect function
Phase loss protection

Suitable for three- and single-phase application
CE, cULus, CCC, KC, EAC Certification
UL group motor and IEC Type 1 and Type 2 ratings
Interrupting rating @ 400 V: up to 100 kA
---
Contact us to learn more about upgrading your protection.