Shop Without Hassle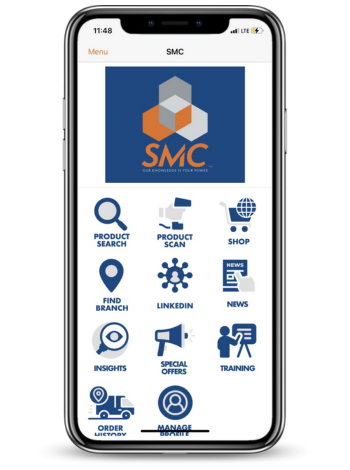 Shopping with SMC has never been easier! Introducing the SMC Mobile App - providing you an easy way to engage with SMC on the go.
It's as easy as 1...2...3!
---
1. Download the SMC Mobile App
Available in the Google Play store and the Apple App store. Use the links below or search "SMC Mobile App."
2. Log in to your SMC Account
Log in to the app using the same information as your online SMC account. If you have not yet registered for an SMC account, please register your account through the website and we will do the rest to get you set up.
3. Manage your profile, check order history, view special offers, and browse products and training - all at your fingertips.
App features include:
- Quick product search by typing in a part number or scanning a barcode using your mobile phone camera
- Quick ordering by adding a part number or scanning a product barcode
- Find and communicate with your local SMC branch using Google Maps, phone, text, or 24/7 After Hours Support
- Check your SMC customer order history on the go
- Stay up-to-date with our news, industry insight, and LinkedIn pages
- Manage your SMC Customer Account directly from the app
---