GuardLink™ Enabled Connection Taps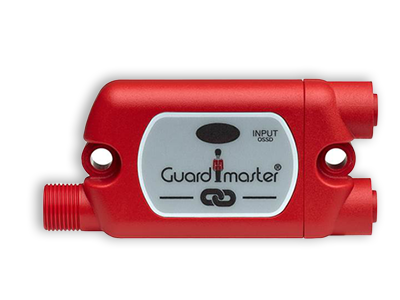 Series connection of safety input devices is common practice in safety-related control systems. However,
when the system trips, fault finding can be difficult due to the lack of diagnostic information.
Providing diagnostics typically required additional wiring, increasing complexity and installation time.
GuardLink simplifies this by providing safety and diagnostic information through the same cable. Connected to a safety relay and using an EtherNet/IP Network Interface, this information is easily passed through to the control system for increased diagnostics.
Why GuardLink?
GuardLink enabled devices offer advanced features and diagnostics that can only be assessed through a GuardLink enabled connection tap.
Real time, contextual diagnostics and sensor health data significantly improve troubleshooting
Automatic Device Reset (ADR)
Seamless integration into Rockwell Automation EtherNet/IP architecture
Allen-Bradley Guardmaster safety relays and safety components featuring GuardLink technology allow you to access status information for your entire safety system. If an e-stop or an interlock switch is operated, that individual safety signal will be sent to the Guardmaster safety relays. That information is then communicated seamlessly across The Connected Enterprise via the Guardmaster EtherNet/IP™ network Interface.
---
The Allen-Bradley® Guardmaster GuardLink enabled tap from Rockwell Automation connects solid state or electromechanical safety switches – including guardlocking switches, non-contact switches, light curtains, limit switches, e-stops and key interlocks – to a GuardLink system. As many as 32 safety devices can be connected to a GuardLink system using taps and standard cables, and monitored by a Guardmaster DG safety relay. This significantly reduces wiring and simplifies installation while providing device location and delivering diagnostics, remote reset and lock commands over the link. GuardLink not only provides a simpler, more effective and productive safety solution, but can also deliver faster time to market and help lower the total cost of ownership of your machines.
The GuardLink Safety System
Safety, diagnostics, remote reset, and lock command over one cable
Up to 32 devices per link (such as interlocks, guardlocking switches, light curtains, and e-stops)
3200 m link distance (max 100 m between devices)
Linear topology with standard M12 4-conductor (trunk) or 5-conductor (drop) patchcords
Plug and play, no configuration required
TÜV certified PLe
Integrated with the Connected Enterprise via the 440R-ENETR EtherNet/IP network interface (Series B)
Features and Benefits
Acts as the adaptor for safety input devices to connect to GuardLink
Provides device location and status to GuardLink GSR Relay (DG)
Connects Output Safety Switching Device (OSSD) or Electromechanical Safety Switch (EMSS) safety devices
Two bright indicators for device and link communication status
Compact 40 mm housing fits on standard aluminum profiles
TÜV Approved Ple, SIL 3, Cat 4 Rated
IP65/IP67/IP69k environmental rating
---
Ready to get more out of your connection taps? Shop now for this simpler, more effective, and productive safety solution.