440G-MZ Guard Locking Safety Switch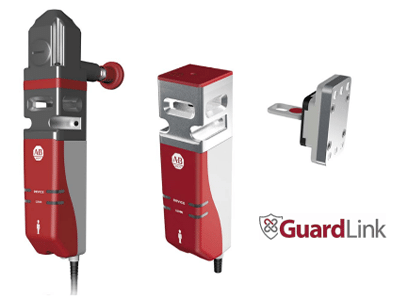 Allen-Bradley® 440G-MZ Guard Locking Switch from Rockwell Automation helps protect personnel and is suitable for use with many types of guard doors, including full-sized guard doors, which allow full body access to the safeguarded area, where a high holding force, a wide tolerance to guard misalignment, and an escape release option are commonly required.
The 440G-MZ has embedded GuardLink® technology making it a smart device that provides the benefits of enunciation and product-specific diagnostics. It reduces wiring, simplifies installation and enables premier integration via an Ethernet/IP communications adapter and safety logic device when connected in a GuardLink system via a passive tap. Alternatively, it can operate as an OSSD device, connected directly to a safety logic device or safety I/O device. The OSSDs or GuardLink safety outputs are energized only when the switch is both closed and locked.
440G-MZ safety switches are TÜV-certified up to SIL 3, PLe, Cat 4 – the highest level of safety for door position monitoring and guard locking. RFID coded actuators help prevent actuator substitution as described in ISO 14119. Typical applications include machines which are surrounded by perimeter fences with guard doors for full body access (for example, robotic assembly or packaging machines), machines with built-in full-size doors (for example, bottling machines) and small to medium CNC machines.
A GuardLink-enabled device provides advanced features such as:
Enunciation - easily identify which devices on the link are tripped
Diagnostics - ready to lock status, lock or unlock attempts, approaching max/min input voltage, actuator not paired
Fault information - failure to lock/unlock, commissioning error codes, actuator detection fault, bolt detection fault, exceeds max/min input voltage
Device RESET and LOCK/UNLOCK over the link that can be initiated remotely from the HMI
The 440G-MZ, with built-in GuardLink technology, connects to a GuardLink system using a passive tap. A combination of passive and smart taps can be connected in a series using standard patch cords with M12 connectors. The linked system interfaces to the Connected Enterprise via an Ethernet interface and a GuardLink safety master.
Features and Benefits
Optimized for full body access
High holding force of 2500 N for guard locking a full-size guard door
Optimal escape release features which allows quick and easy exit in the event that a person is locked inside the safeguarded area
Tongue actuator movement in multiple axes facilitates +/-5 mm misalignment tolerance
Flexibility to meet your needs:

Can operate as a standalone device (5-pin OSSD connection) or in a GuardLink system
Flexible mounting with three entry points on hinged or sliding doors

Network integration via EtherNet/IP communication adapter with safety relay
RFID unique (high) or standard (low) coded actuator for flexible level of tamper-proofing
Highly visible 270-degree wrap-around LEDs for LINK and DEVICE status
Ingress rating: IP65, IP66, IP67, IP69k
SIL 3, PLe, Cat 4 - the highest level of safety
What is GuardLink?
GuardLink is a communications protocol that links safety to The Connected Enterprise. Allen-Bradley Guardmaster® mart safety devices featuring GuardLink technology deliver information, advanced functionality and flexibility, while enhancing safety and increasing efficiency machine and plant-wide.
Real time, contextual diagnostics improve troubleshooting
Seamless integration into Rockwell Automation EtherNet/IP architecture
Connect up to 32 safety devices in series with no reduction in safety integrity or enunciation
---
Shop now to upgrade your facility safety.