SLC 500™ to CompactLogix 5380™ Control System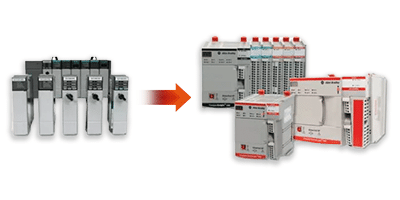 To stay ahead of the changing market demands, it is crucial to have migration solutions that can help lower the risk of maintaining legacy equipment and achieve increased productivity. Maximize your competitive advantage by collaborating with a partner who has the product, service, and industry knowledge to develop your upgrade strategy.
Rockwell Automation and SMC will develop a modernization strategy with you to fit your application needs and long-term goals. You can migrate all at once or in phases, at a pace that is comfortable and fits your budget. This will allow you to migrate with ease from SLC 500 to CompactLogix 5380 control system.
Get More with CompactLogix 5380 Control System
Gain additional flexibility with integrated motion on EtherNet/IP up to 32 axes
Improve performance with high-speed I/O, motion control, and Device Level Ring (DLR) and Linear topologies with dual gigabit (Gb) embedded Ethernet ports
Increase security with controller-based change detection, logging, and encrypted firmware
Maximize returns on existing assets through improved control and access to real-time diagnostics
Reduce commissioning time and optimize productivity with one common development environment, Studio 5000 Logix Designer application
Migrate with Ease
Lower overall conversion time and effort

Reduce time to rewrite controller program with code conversion tools
Convert I/O and maintain existing field wiring connections
Reduce troubleshooting at startup
Save installation time

No drilling required as conversion chassis utilizes existing mounting holes
Modernization and Conversion Services
In any phase of your conversion project, SMC and Rockwell Automation can provide you with technical, industry, and project management expertise to help make a migration project easier. We will help you design a plan to account for your short and long-term goals. You will be assigned a primary engineer as your primary communications contact, who will be responsible for coordinating and scheduling implementation activities and resources.
Using standardized checklists and processes, our primary engineer will review to confirm the project scope, validate risks, review testing and acceptance criteria, and gather the required information and software to convert existing screens and application code.
Deliverables Include:
Bill of Materials
Conversion Acceptance Criteria
Project Schedule and Timeline
Required Information Sent to Conversion Engineer Team
---
To request a migration quote, please contact us using the link below.

If you need additional help, SMC can provide:
Application level phone support during startup/debugging phase of the project
Consultation on system re-engineering, operator interface, architecture and communication strategies, training, and on-site startup