Introducing the PowerFlex® 755TS Drives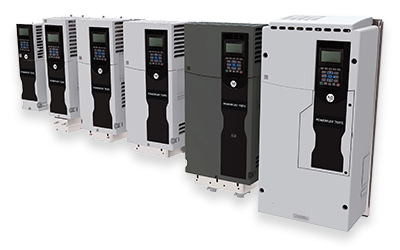 The PowerFlex® 755TS drive can be applied throughout your plant from traditional VFD applications to more advanced motor control for precise speed, torque, and positioning. It is the first standard six-pulse drive to offer TotalFORCE® technology.
Designed for countless applications and industries, the PowerFlex 755TS helps deliver the productivity and throughput you need.
Boost Productivity and Uptime With:
High-performance motor control with precise velocity, torque, and positioning
Simplified equipment maintenance and service with patented predictive maintenance technology
Real-time device data for fast decision making at the plant level and that's accessible to cloud-based analytical devices
Adaptive control features enable faster machine startup increased machine flexibility and performance
Integrated networked and hardwired safety enables cost-effective machine safety implementation
A common software and hardware experience that reduces complexity and training
Multiple motor type support - induction, permanent magnet, and synchronous relectuance
Built-in dual port Gigabit Ethernet, 1000 MB - 10x higher throughput when compared to 10/100
DeviceLogix™ integrated logic-solving capability for applications that require a quick and localized response to input events
T-Link option card for fiber optic high-speed drive-to-drive communication
CIP Security for secure communications, ensuring authorization, integrity, and privacy between trusted devices
XT corrosive gas protection option helps improve uptime and reduce corrosion in caustic gas environments
1...400 HP / 0.75...270 kW / 400...480V
-20...60°C operating temp (-20...50°C without derate)
Enclosure options: IP54, flange and option for XT corrosive gas protection
---
Looking for an "out of the box" solution? The PowerFlex 755TS drive can be ordered and delivered to meet your specific packaging needs. Download the brochure to learn more, or contact us below.