42JT VisiSight™ Photoelectric Sensors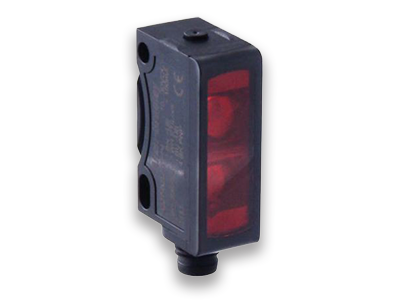 Rockwell Automation announces enhancements to the 42JT VisiSight™ line to include embedded IO-Link functionality. IO-Link allows sensors to easily integrate into The Connected Enterprise, delivering data from the sensor directly into a control system in a very cost efficient and easy-touse manner via an IO-Link Master and EtherNet/IP™.
The Allen-Bradley® 42JT VisiSight family offers a wide range of sensing modes and a teach push button that simplifies sensitivity adjustment and offers light vs. dark operate output selection. The unique "Auto PNP/NPN" output continuously monitors how the load is connected and automatically configures the output for proper operation. And when connected to an IO-Link master the 42JT can take advantage of advanced functionality including real-time diagnostics, automatic device configuration (ADC) and multiple job-specific profiles. Not only do these features make the 42JT VisiSight easy to apply in challenging packaging and assembly applications, but they help optimize your supply chain by reducing the number of models to be stocked by 50%.
The 42JT VisiSight offers a small rectangular package with visible light beam for ease of alignment and industry standard mounting hole spacing of 25.4 mm.
Features and Benefits
Embedded IO-Link communication protocol helps minimize downtime and increase productivity
IO-Link functionality and unique Auto PNP/NPN output reduce stocking cost and simplify installation and maintenance
Class 1 "Eye Safe" red laser and visible red LED models
Teach pushbutton for sensitivity and LO/DO selection (can be locked out)
Alignment indication in long range models
Industry standard mounting holes plus dove-tail mounting option
IP69K and ECOLAB rated enclosure
42JT, IO-Link Version 1.1
IO-Link is a worldwide open-standard peer-to-peer serial communication protocol (IEC 61131-9) that allows sensors and actuators to easily integrate into The Connected Enterprise.
The IO-Link enabled 42JT sensor—when connected to an IO-Link master—shares device identity, parameters, real-time diagnostics and process data with the control system to optimize machine setup, maintenance and troubleshooting.
By combining simple implementation with powerful data and diagnostics, IO-Link sensors provide simplified integration and seamless visibility of your processes to increase uptime and productivity.
42JT IO-Link Benefits
Teaching the sensor can be accomplished with IO-Link via the Add-On Profile through Studio 5000® software or by using the teach button on the sensor.
Low Margin Bit Indication minimizes downtime by notifying the user when the lens is getting dirty and needs to be cleaned.
Application Specific Tag Names help the user locate the sensor quickly on the machine.
Locking options are available to lock local settings when operating in IO-Link mode, and therefore any user changes will not change the settings of the sensor.
---
Shop the link below to easily integrate IO-Link into your facilities with the 42JT VisiSight™ line.