Duo-Lock™ Modular End Mills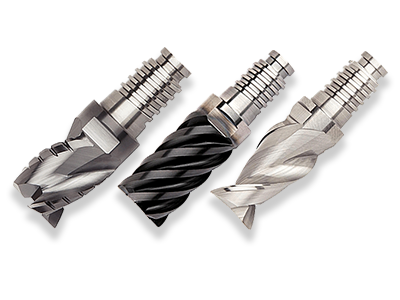 The ONLY modular system with the performance of a solid carbide end mill
Duo-Lock™ is a new revolutionary coupling for solid carbide end milling applications. This replaceable head design combines a high accuracy in runout and length repeatability with maximum stability, making it a precise and virtually unbreakable interface.
To adapt Duo-Lock™ perfectly to your spindle, a vast array of adapters and extensions are available.
• Standard length extentions with Safe-Lock™, cylindrical, and conical.
• Cut-to-size extensions, cylindrical, and conical.
• Integral adapters with HSK, PSC, CV, and BT back ends.
Duo-Lock Features
- Intermediate diameters are available upon request as custom solutions
- Reconditioning with maximize tool life and your investment
- Vast array of roughing, finishing, profiling, and chamfering tools, and blanks available. Covering all end milling applications
- Double cone eliminates expensive presetting processes by providing an axial .0004" (10μm) repeatability. Length repeatability from insert tip-to-tip within .002" (50μm).
- Intelligent thread ensures stress level to remain below critical values, allowing >25% higher transmittable torque
- 3rd contact surface delivers high stiffness and highest accuracy below .0002" (5μm) runout.
- With a Duo-Lock™ wrench the tool chance becomes easy and can be done within a few seconds.
---
Shop the link below to begin using Duo-Lock™ in end milling applications.