VSD0-S Directional Control Valves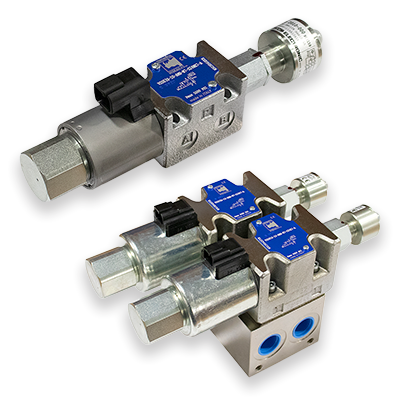 Dual monitored block and bleed kits, are designed to assist in meeting safety requirements listed in ISO 13849-1/-2 and EN 692 directives.
These redundant design products, when properly implemented into the safety control and monitoring system using a high diagnostic coverage, can achieve Category 4, SIL 3 coverage requirements.
Dual monitored kits consist of ductile iron manifold and two single solenoid valves making it a redundant design. The series - parallel circuit design blocks flow and pressure until both valves have been actuated to allow flow and pressure from the supply to the machine. If either valve is deactivated the flow to the outlet port will be blocked from the hydraulic supply source and the outlet port is then automatically connected to tank removing all potential hydraulic power at the machine.
The solenoid operated directional valves are equipped with position sensors that monitor the main spool position. The switching position is indicated by a binary signal.
NFPA D03 (ISO 4401-03) and NFPA D05 (ISO 4401-05) size valves are direct operated and are available with DC solenoids. Pilot operated valves are available in the following sizes: NFPA D05 alt.A/alt. B (ISO 4401-05-05-0-05), NFPA D07 (ISO 4401-07-07-0-05), NFPA D08 (ISO 4401-08-08-0-05) and NFPA D10 (ISO 4401-10-09-0-05).They are available with DC solenoids.
Continental Hydraulics double redundant valve assemblies are idea for applications such as:
Brick and block manufacturing
Automotive assembly lines
Machining centers
Recharging systems in critical petro-chemical/energy producing applications
Pulp and paper product production
Saw mills
Metal forming
Food processing plants
Powering dam gates
Motion simulators
Hydraulic presses
---
TÜV certification valves to help you achieve compliance to EC Machine Directives, ISO and ANSI regulatory standards. Contact us to learn more.