Twist-Lock Edge Series with Screwless Termination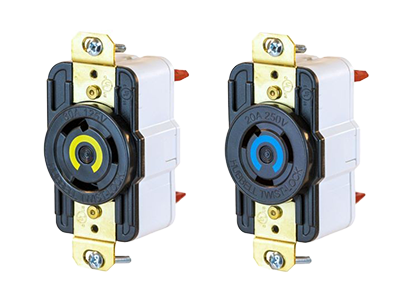 Revolutionary new twist-lock device makes installation 80% faster.
Improve installation with Twist-Lock Edge series receptacle, plugs, and flanged inlets, featuring screwless terminations. Strong levered springs inside the device continue to apply pressure as strands relax over time for a reliable connection. Our design keeps wires tight, improving connections in the most demanding environments.
For a limited time, get 10% off your first order of Hubbell Screwless twist-locks.
Receptacles
Available in 3, 4, and 5 wire configurations, these receptacles fit in standard depth boxes.
Plugs
Cord mounted plugs include funneled wire entry to direct conductor strands as well as molded in leverage points for easy unwiring.
Flanged Inlets
Designed with easy termination access in the back of the device with laser etched terminal markings for clear identification of correct wiring.
The market's fastest terminating devices let installers get more done in less time.
Improve installation time over 80% with screwless, tool-less termination

Continuous pressure as strands relax, ensuring a secure connection

Vibration improves wire retention over time
Applications subject to vibration or thermal cycling benefit from increased performance and productivity savings with Hubbell's screwless termination technology. Perfect for use in power distribution systems, for powering motor drives, or simply installing equipment on the production floor.
Features and Benefits:
No torque screwdriver required for wiring
No exposed metal on receptacles
Strong spring continues to apply pressure as strands relax
Available in a variety of NEMA configurations
---
Hubbell's innovative, patented Twist-Lock® devices with screwless terminations are the fastest termination devices on the market. Strong steel springs continuously apply pressure to wires, ensuring a strong connection in the most abusive environments. Learn more or shop below to save 10% off your first order.