Cybersecurity Briefing for Water and Wastewater Treatment Facilities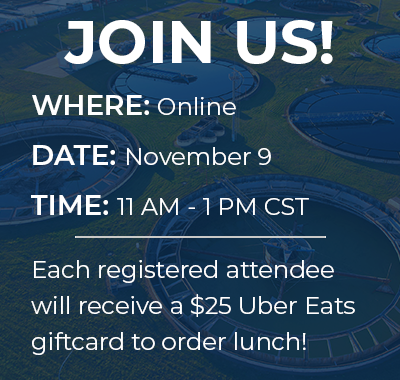 The risks of cyberattacks at our critical infrastructure has never been greater and continues to evolve quickly. CISA (Cybersecurity & Infrastructure Security Agency) recommends that every organization, small and large, must prepare, create a response plan, and mitigate the impact of cyberattacks.
Be prepared with our critical infrastructure update briefing.
Join us on November 9 at 11 AM - 1 PM (CST) where we will update you on the latest security threats facing the water and wastewater industry.

We guarantee this to be a lively, informative, and critically important briefing that will allow you to leave with actionable information. Best of all, lunch is on us! Each registered attendee will receive a $25 Uber Eats gift card to order lunch.
Briefing Highlights:
Lessons learned from the Ukraine-Russia conflict and cyberattacks on critical infrastructure.
Updates as it relates to your obligations under the CISA Cybersecurity Awareness for critical infrastructure and America's Water Infrastructure Act (AIWA).
How to secure your assets, systems, and networks, leveraging best practices and real world examples.
Where to start and how to build a "Zero Trust" security architecture that holistically integrates network design and security across your IT and Control infrastructure.
How to access the latest Federal, State, and Local Government funding including the $110B Infrastructure and Jobs Act.
Who Should Attend:
Decision makers responsible for securing IT and Control Infrastructure at water and wastewater facilities.
Briefing Bonus: SMC's AWIA Critical Infrastructure Jumpstart Offer
Typically a $5,000 offer, SMC is making this available to attendees for FREE. To understand more about SMC's cybersecurity capabilities and how you can take advantage of this AWIA Critical Infrastructure Offer, register to attend!
---