CRC RTV Silicone Pressurized Tubes with Select-a-Bead™ Nozzle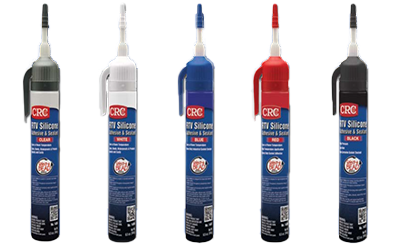 CRC RTV (Room Temperature Vulcanizing) Silicone Pressurized Tubes are designed for a wide range of sealing, bonding, protecting, and waterproofing applications. The CRC Select-a-Bead™ nozzle allows for easy control of silicone bead width. The unique double piston pressurized can allows for smooth, uniform dispensing from start to finish.
Products:
Clear - Forms a barley visible water-tight seal
White - Designed for high moisture, indoor/outdoor applications
Blue - Heavy duty industrial gasket sealant
Red - High temperature, low odor, non-corrosive gasket sealant
Black - High pressure, low odor, non-corrosive gasket sealant
Benefits:
Pressurized package keeps silicone fresh so it won't dry out
Self-sealing plug
VOC compliant*
Seal, bond, waterproof, and protect
Cures at room temperature - no special curing methods required
*As defined by Consumer Products VOC regulations
---
Shop the RTV Silicone Pressurized Tubes using the link below!