Bulletin 1492-P Push-in Terminal Blocks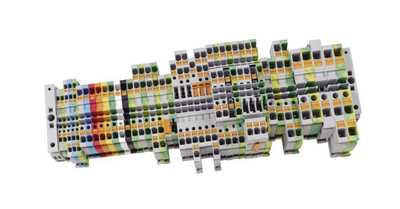 Dramatic Time Savings and Improved Reliability
This innovative push-in connection technology offers dramatic time savings by creating wiring efficiency. The 1492-P Push-in terminal blocks provide improved wiring accuracy and reliability insuring a quality connection that requires no double checking.
When using an automated ferrule machine, installation can be up to 65 percent faster than screw-type terminal block connections – a 26 second savings per terminal block. That's a saving of over seven hours for every 1,000 terminal blocks connected. Not only is productivity vastly increased, but the resulting connections eliminate the vibration failure mode of screw terminals. The push-in connections significantly exceed UL pull-out standards.
Bulletin 1492-P Push-in terminal blocks offer panel builders, OEMs, and other high-volume users cost-savings – not only in the form of increased wiring speed, but also through eliminating connection adjustments and torque-checking of screws. They are available in a wide range of standard and application specific offerings, including a unique control power distribution terminal block.
Features and Benefits
ONE-hand, ONE- second insertion

No strand breakage or turned back strands
Low insertion force
No retightening

Easy-to-see terminals from the front
Universally-located test points for fast inspection and easy commissioning
Plastic actuators for shock prevention
Application-driven designs (power distribution and sensor/signal blocks)
No torque values needed to install or double check
Quick reference guide for easy ferrule selection
Marker areas located on the front and sides with only four marker card types needed for the entire product line
---
Shop Allen-Bradley 1492-P Push-in Terminal Blocks!