700-FE Timing Relays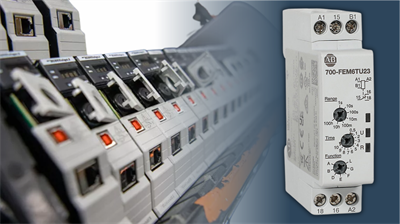 At 17 mm, the Bulletin 700-FE DIN Rail Timing Relays are the smallest Allen-Bradley® DIN rail products with a timing range of 0.05 seconds to 100 hours. There are four single function timing versions available (on delay, off delay, one shot, repeat cycle starting with pulse) for customers who require a specific function at the lowest possible price. However, if a user requires many different timing functions and would like to reduce their inventory and simplify their design requirements, a slightly higher cost multi-function timer is available which has seven timing functions in one part number.
Features:
Only 17.5 mm wide for space-sensitive applications
DIN rail mounted without cost of socket
Single function or multi-function units
Time range from 0.05 seconds to 100 hours
5A contact rating
Coil surge protection
Wide range of output voltage
Seven timing functions available
Provides coil surge protection
---
Update your hardware without breaking the bank! Shop below!