Digital Circuit Breaker Finder with GFCI Outlet Tester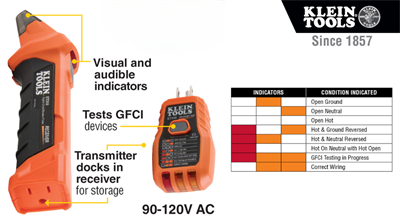 This digital circuit breaker finder from Klein Tools is used to locate the correct circuit breaker in a panel to which an electrical outlet or fixture is connected. The transmitter is connected to the electrical outlet or fixture in the circuit while the receiver is used to scan the breakers in the circuit breaker panel. Transmitter includes an integrated GFCI outlet tester.
Features:
GFCI tester consists of two parts: a Transmitter connected to the electrical outlet or fixture, and a Receiver used to scan the panel to locate the correct breaker
Receiver delivers clear visual and audible indications when the correct breaker has been located
Operates on 90-120V AC circuits
Transmitter incorporates a GFCI outlet tester to inspect the wiring condition at the electrical outlet and test GFCI devices
Transmitter docks in the Receiver for convenient storage as a single item when tester is not is use
Transmitter incorporates a three-pin plug for connecting to North-American-style grounded electrical outlets
The transmitter may be connected to other electrical fixtures using optional accessories which are sold separately (Cat. No. 69411)
Receiver powers off automatically after approximately three minutes of non-use to conserve battery life
Transmitter is powered by the circuit when connected to the electrical outlet or fixture
Low battery indicator
Easily accessible battery compartment. Uses one 9V battery in receiver only; Transmitter does not require a battery
Built to withstand a 6.6-Foot (2 m) drop
CAT II 120V safety rating
Measurement Category II is applicable to test and measuring circuits connected directly to utilization points (socket outlets and similar points) of the low-voltage MAINS installation
Includes Transmitter, Receiver, user manual, and 9V battery (for Receiver)
---
Whether you're on the job or working on home improvements, this tool is just what you need! Shop Now!