42EA RightSight S18 and 42JA VisiSight M20A Photoelectric Sensors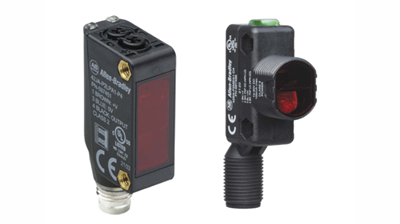 The Allen-Bradley® RightSight™ and VisiSight™ families of photoelectric sensors from Rockwell Automation are ideal for material handling, packaging and assembly applications. These lines also address the small form factor needs of many other industries including Life Sciences, Pharmaceutical, Food and Beverage and Home, Health and Beauty. The 42EA RightSight and 42JA VisiSight sensors offer a wide range of sensing modes, mounting options and unique features that make them optimal solutions for global use.
Plus, all models combine a visible red light source for ease of alignment during setup and maintenance. Adjustment knobs on select models for sensing range and light or dark operation, as well as multiple connection options, allow for ease of installation and setup.
The 42EA RightSight S18 line of general purpose sensors is designed for light- to medium-level industrial use. These sensors offer the performance of larger solutions in a smaller, more adaptable package to deliver excellent detection capabilities where size and shape matter. Combining basic functionality with an industry standard 18 mm nosemount housing, the 42EA RightSight S18 – like its rectangular VisiSight counterpart – features a visible red light source, adjustable sensing range and multiple connection options.
The 42JA VisiSight M20A offers a full range of sensing modes in a sealed, compact, cavity-free housing that minimizes the collection of dust and debris while allowing for easy sensor cleanup. The rectangular housing features industry standard 25.4 mm (1 in.) mounting hole spacing, with threaded metal inserts for faster installation and replacement.
Features:
Low-cost general-purpose products ideal for material handling, packaging and other industries
Variety of sensing modes in industry standard housings to address a wide range of applications
Multiple connection styles, adjustable sensing ranges (select models) and output types for application flexibility
IP67 enclosure ratings for harsh industrial conditions
360° visible LED status indicators
---
Click below to find these sensors and update your process!