The FactoryTalk® Optix™ Portfolio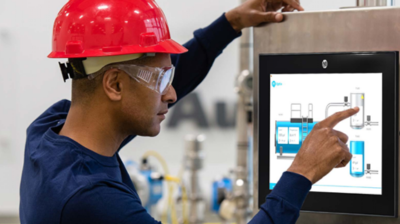 This portfolio represents a new approach to HMI with hardware and software that works together and allows for broad interoperability. Hardware options include ASEM™ 6300 industrial PCs and the OptixPanel™ graphic terminal, a new line of purpose-built HMI appliances that support cost optimization.

The software side of the portfolio empowers designers to collaborate more efficiently and create highly customized applications using C# (and other object-oriented programming options). Cloud-based options are also available for secure remote connectivity and management.
Choose the technology mix that works for you
Connect to a variety of third-party devices thanks to software designed for interoperability and full OPC UA support.
Use your Choice of hardware, including the purpose-built OptixPanel™ graphic terminal and industrial PCs from Rockwell Automation or hardware from other vendors.
Only pay for the features you need with runtime licensing that is based on the capabilities in your application.
Design more innovative equipment faster
Streamline the design process with multi-user collaboration, web-based design and test and integrated version control.
Accelerate development with pre-built recipes, localization, datalogging, creation of reusable code libraries, style sheets, and more.
Build modern, intuitive applications that are easy to learn, with C# and other object-oriented programming options
Adopt a flexible, future-ready approach
Apply open standards for connecting to devices and processing data.
Develop with extensibility in mind, through APIs, modern programming tools and open protocols that support HMI enhancements and integration with new technology.
Collaborate and troubleshoot form anywhere with cloud-based software options that enable collaborative design and secure remote connectivity.
Product Profiles
FactoryTalk® Optix™ is an HMI visualization platform. It delivers unmatched flexibility, scalability and interoperability and enables you to design and deploy and HMI that meets customer needs. This new platform includes features such as multi-user collaboration, web-based design and test, and integrated version control.


FactoryTalk® Remote Access™ solutions provide secure remote connectivity, so you can view, assist, manage, and troubleshoot from anywhere in the world. Respond to customer needs faster and apply the right skills and resources at the right time - with no need for travel.


OptixPanel™ graphic terminals are sealed HMI appliances that come pre-loaded with FactoryTalk® Optix™ software licenses. This means the device is an all-in-one solution that's ready to run at first power-up and costs less than an industrial PC. The pre-installed, closed OS reduces risk in implementation and maintenance.


ASEM™ 6300 Industrial PCs are available in box and panel form and allow for greater customization compared to the OptixPanel™. Innovate with FactoryTalk® Optix™ software and seamlessly deploy your HMI solution to the ASEM™ 6300 device that best fits customer needs.
---
To learn more, click here or contact us below.