Save on Professional Radios by Kenwood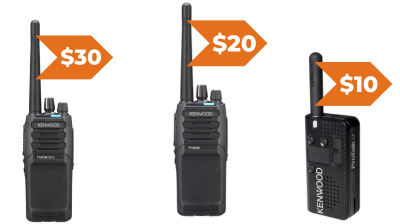 Earn up to $30 with every radio purchased!
Submit your rebate claim online with the minimum purchase of one (1) eligible radio per rebate. Earn gift cards or rebate checks up to $30 per radio purchase. This offer is only valid through September 30, 2023.
To claim your rebate check, register on-line HERE
1. Access the rebate by entering offer code
95220
. Complete and submit the on-line rebate form.
3. Include a copy of the sales invoice dated through September 30, 2023.
4. Rebate clam information must be uploaded on or before October 31, 2023.
Qualifying ProTalk Radio Models
$20: NX-P1202AVK, NX-P1302AUK
$20: NX-P1200AVK, NX-P1300AUK
$30: NX-P1200NVK, NX-P1300NUK
$10: PTK-23
---
To shop SMC's collection of Kenwood radios, follow the link below!